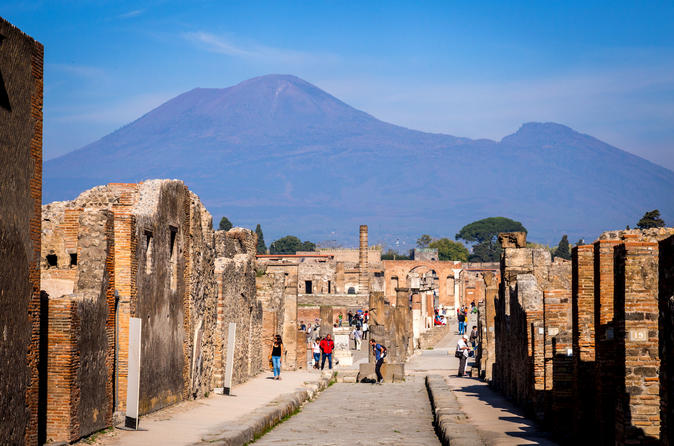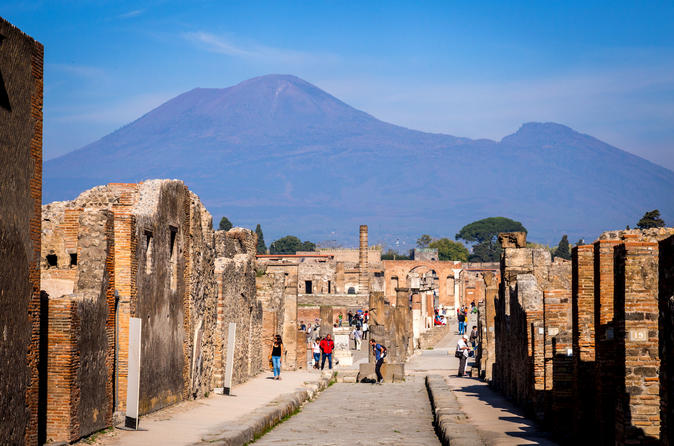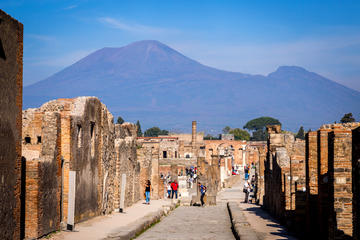 ---
Ruins of Pompeii & Mt Vesuvius Day Trip from Rome
Meet your guide at Piazza del Popolo and then hop aboard your luxury, air-conditioned coach for your journey south to Italy's Campania region. As you travel, your guide will keep you entertained with tales about the region, and of its brooding nemesis -- the famous and fearsome Mount Vesuvius.

As Europe's best-known active volcano, Vesuvius gained notoriety for the destruction of the ancient towns of Pompeii and Herculaneum in AD 79. See the scars of ancient lava flows while traveling to the volcano's foothills, and then hop off your coach to walk to the top. Hiking up to the crater is the best way to experience Vesuvius' magic, and after 20 minutes of steady-paced walking along soft volcanic ash and pumice stone you'll hit the top.

Gaze down into the crater and enjoy some free time up on the ridge to soak up the volcanic views, set against the dazzling backdrop of the Bay of Naples. After taking pictures and drinking in the vistas, walk back down the volcano with your guide, and hop back aboard your coach for the short journey to Naples.

Enjoy one of the city's world-famous pizzas for lunch, and then head south to the ancient city of Pompeii. Now a UNESCO World Heritage Site, Pompeii's archeological site is fascinating to explore with well-preserved fossils and ruins that lay beneath volcanic ash for centuries.

See its sights with your guide, noting where the restaurants, shops and brothels of ancient Pompeii once stood. Marvel at the remains of the Forum and see Teatro Grande – an impressive theater that once sat some 5,000 people. See plaster death casts of the victims, and then hear how they were 'discovered' in the 18th century.

After exploring the excavation site, return to your coach and travel back to Rome. Your tour finishes at the start point in the early evening.